Kansas, the home of the most famous BBQ Cook Off as well as the BBQ Hall of Fame.
Written by Suzy Zoch September 12, 2018
This weekend at the American Royal BBQ Cook Off at the Kansas Speedway one of Lee County's own residents will be inducted into the BBQ Hall of Fame.  Way to represent Lee County Tootsie Tomanetz!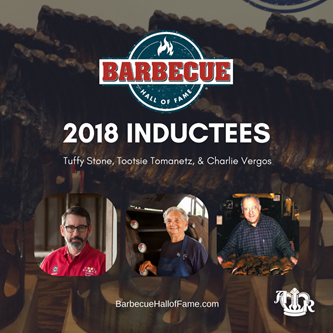 First let me say, I did not interview Tootsie, but we at Harley's Texas Style BBQ Seasoning want to recongnize this lifetime achievement honor.  We are very proud of her.  I grew up in Fedor and spent a lot of Saturdays at the Auction Barn in Lexington with my dad.  He would be buying or selling cattle, but if me and my brothers didn't wander off and make him look for us he would take us to get BBQ.  I have been eating her BBQ as long as I can remember.  Even before Tootsie was famous for BBQ she was famous to us.  We would get to go into the meat market in Lexington as a child with Herbert (a sweet neighbor) and he would always tell her to fill up a bag of goodies for us.  She would look at us and tell us she put something extra special in there for us.  She always had time for people, even us rowdy kids.  I think about her getting a lifetime achievement award and her kindness always comes to mind.  She is being honored by BBQ Hall of Fame for her accomplishments, a well deserved honor, but we love her for everything her life has stood for.  She is one of the kindest, friendliest, hardest working and most respectable women I know.  Tootsie Tomanetz is a wonderful role model for everyone, especailly the BBQ Community.  
Check out the link to the BBQ Hall of Fame where you can see her picture among some other barbequers.www.barbecuehalloffame.com/press_release.aspx?p=14  If the link doesn't work go to www.barecuehalloffame.com 
The big BBQ Cookoff, known as the Kansas City American Royal BBQ Championship is coming up this weekend.  Although Harley is not cooking in the cook off, he has in the past.  During his time there he met many people.  Harley has never met a stranger.  We have a lot of customers in that area, and while we do not have any grocery chains currently carrying our seasonings, we have an ongoing relationship with The Kansas City BBQ Store.  They sponsor several teams and one of them is from Texas.  Here is the list for this yar (I copied the images from their website @ www.thekansascitybbqstore.com)
A big shout out to Fat Boys BBQ of Temple Texas.  Congratulations to Danny and Corey and their gang.  
We get calls all the time about where you can buy seasoning in Kansas and Oklahoma area.  Oklahoma fans will have to wait for the next blog entry to find out where they can buy it.  Here are the places you can purchase Harley's Texas Style BBQ Seasonings at in Kansas.  Both locations below carry 8 oz and 14 oz Regular and Regular with No MSG.  The Kansas City BBQ Store also carries the Sweet Rib Rub and the Sweet with No MSG.  Stop by either store to pick up  a fresh bottle of Harleys.  Remember Harley's is not just for BBQ - it is good on everything.  
The Kansas City BBQ Store
11922 South Strang Line Road
Olathe, Kansas 66062
Hours of Operation
Monday-Saturday: 10:00 a.m. to 8:00 p.m.
Sunday: 11:00 a.m. to 5:00 p.m.
and 
Beard Propane Heat & Air, Inc.
10515 Highway 59
Erie, Kansas 66733
Phone: 620-244-3612
Sorry about the sizes of pictures - Computer program not cooperating at all!